Free Shipping On All Orders Over $60.
DETANGLER BRISTLE NYLON HAIRBRUSH 🔥
At the crucial moment
Please rest assured that we will ship normally.
At the same time, we hope you take good care of yourself.
Detangling children's hair is not always fun and the mere sight of the comb can be enough to make little ones cry.

That's why we designed our detangling hairbrush. With its innovative design combining boar bristles and nylon tips, the brush glides smoothly over tangled hair without the discomfort of traditional brushes.
This bristle and nylon hair brush is quick-drying and easy to clean. The non-slip design rubber handle is convenient to hold. It can massage your head during comb, why not try it?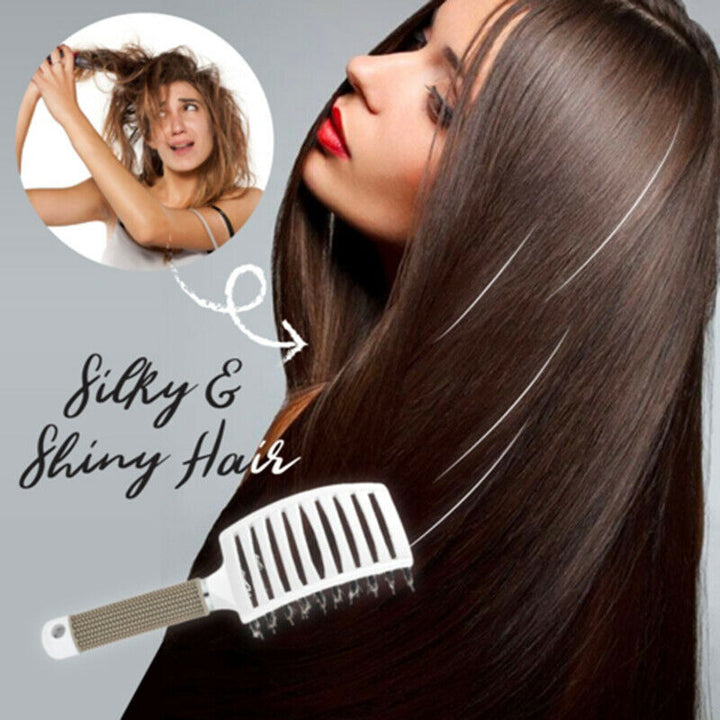 ✔️ Boar Bristles – Natural boar bristles promote healthy hair by stimulation natural oils from the scalp.
✔️ Quick Detangling – The bristles & nylon pins help detangle thick hair and massage the scalp while spreading oils from the root to the tip of your hair.
✔️ Vented For Blow Drying - This boar bristle hairbrush is vented for faster drying with a blow dryer.
✔️ Curved & Oversized Head – This hairbrush has a large head with a curved shape that allows optimum contact points and angles with the scalp while promoting natural hair oil stimulation.
✔️ For All Hair Types – It can be used by men & women regardless of the hair type. Fine hair can take advantage of the boar bristles stimulating natural hair oils for healthier hair, while thicker hair will enjoy the detangling features of this hairbrush.
Specification
Material: Boar Bristle & Nylon
Size: 1.33 x 3.07 x 9.6 inch
Package Include
1 x Bristle Nylon Hairbrush
Address:
919 North Market Street, Suite 950
Wilmington, Delaware 19801
United States.
Email us: support@giftfavourite.com
Office Hours: Mon-Fri, 8am-12:00pm – 1:30pm-6pm Eastern Time
| English (EN) | USD
Copyright © 2023, GiftFavourite.