Free Shipping On All Orders Over $60.
🔥Efficient Testing Made Easy with A1's Anti-Burn Intelligent Multimeter
Efficient Testing Made Easy with A1's Anti-Burn Intelligent Multimeter is the ultimate tool for precision testing. This digital multimeter is designed with advanced features that make it simple and easy to use, while still delivering accurate and reliable results every time. The anti-burn technology ensures that the multimeter is protected from overload, and the fully automatic function allows you to focus on the task at hand.
The A1 multimeter is perfect for both professional and home use, with a variety of features to suit any need. The large, easy-to-read digital display shows readings in real-time, with clear and concise measurements for voltage, current, resistance, and more. The intuitive interface is designed for simple and fast operation, so you can quickly and easily get the measurements you need.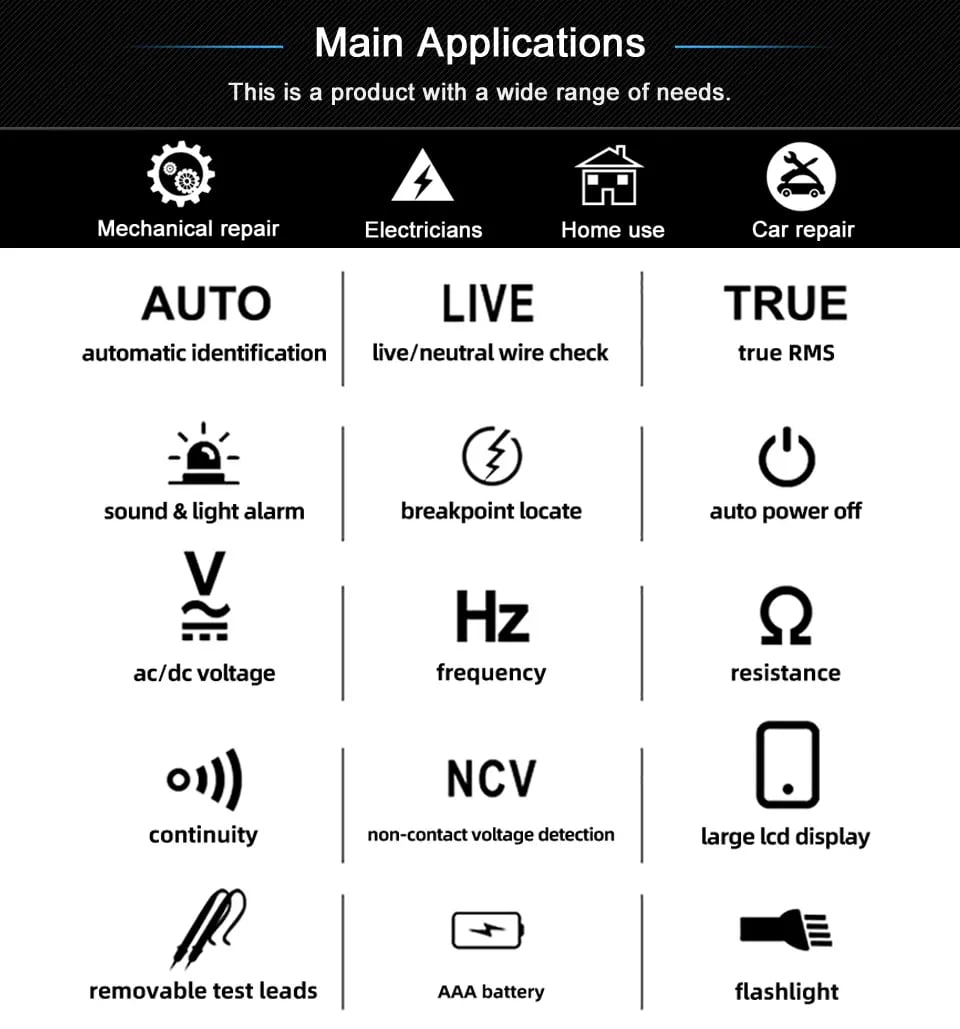 The A1 multimeter also includes advanced features like automatic range selection, data hold, and a built-in flashlight, making it ideal for working in low-light environments. The durable and sturdy design is made to withstand the rigors of daily use, while still remaining lightweight and compact for easy portability.
In addition to its advanced features, the A1 multimeter is also incredibly safe to use. The anti-burn technology protects the multimeter from overload and overvoltage, so you can be confident in your safety while testing. Whether you're a professional electrician or a DIY enthusiast, the A1 Anti-Burn Intelligent Multimeter is the perfect tool for efficient and precise testing.
🏃Ultra-portable: Smart and convenient test method.
🔋Replacement Battery: Unscrew the bottom screw, then slide off the lower case and replace with a new battery.
Package includes:
2 X Line
1 X Manual
2 X Battery
1 X Screwdriver
Address:
919 North Market Street, Suite 950
Wilmington, Delaware 19801
United States.
Email us: support@giftfavourite.com
Office Hours: Mon-Fri, 8am-12:00pm – 1:30pm-6pm Eastern Time
| English (EN) | USD
Copyright © 2023, GiftFavourite.