Free Shipping On All Orders Over $60.
🔥Full Automatic High-Tech Water Soaker Gun with Massive Capacity for Ultimate Summer Fun!
Introducing our latest innovation in water fun, the Electric Water Gun with Electric Suction Design! Get ready to make a splash and take your pool battles to the next level with this powerful and exciting water toy.
One of the standout features of this water gun is its electric suction design. With a simple immersion of the water suction port into the water, you can effortlessly fill the gun by pushing the trigger forward. No more hassle of constantly refilling water manually! This means you can enjoy uninterrupted shooting fun in the swimming pool.
This Electric Water Gun is all about non-stop excitement. By holding down the trigger, you can continuously fire water, ensuring an exhilarating and action-packed experience. Its large size makes it easy to handle, giving you the confidence to advance bravely in any pool battle. Feel the thrill and freedom of free shooting with this impressive water blaster.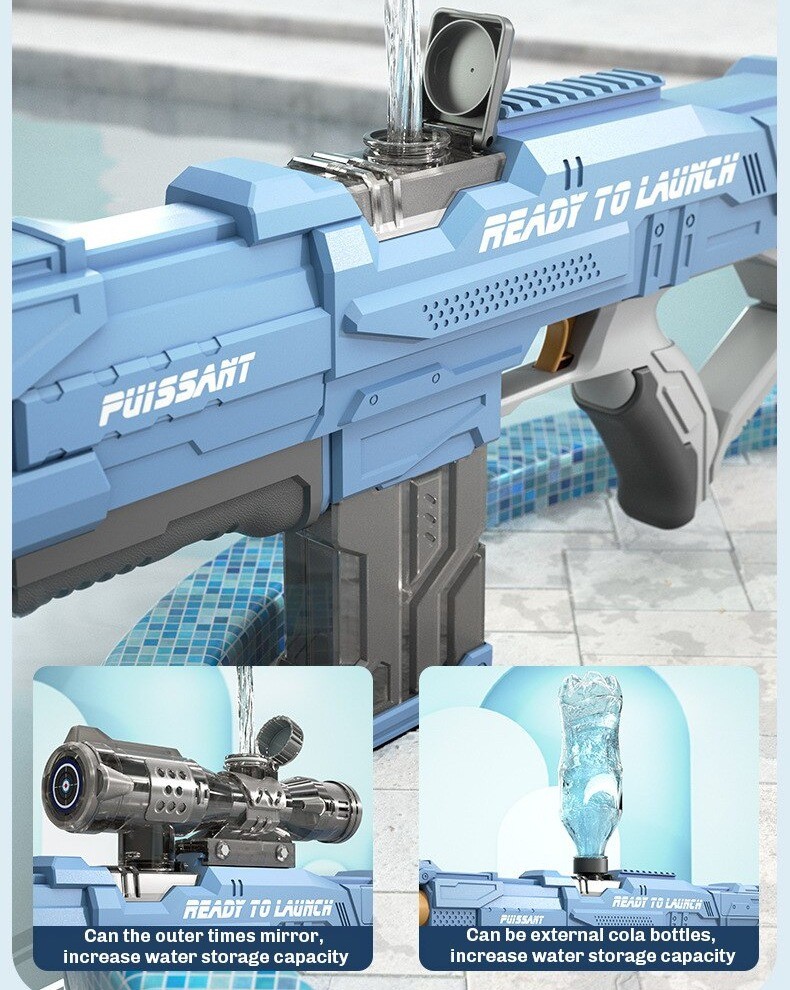 With a rechargeable Li battery and a convenient USB charging cable, this water gun is both battery-powered and waterproof. You can charge it using a USB charger, power bank, or computer, making it incredibly versatile and easy to power up. The battery compartment is leak-proof, ensuring safe use in water environments. However, please avoid sinking the gun completely in water to prevent any potential short-circuiting of the battery.
Designed to impress, our Electric Water Gun boasts a stylish and cool appearance. Crafted from high-quality, non-toxic, and durable ABS plastic material, it ensures both safety and longevity. This toy has been thoroughly tested for safety and durability, with no small parts or sharp edges that could harm children. Parents can have peace of mind while their kids enjoy hours of water fun.
This water gun is not just a toy; it's an ideal summer gift for children aged 8 and above. Perfect for outdoor play such as swimming, beach parties, and family fun, it guarantees endless entertainment. Whether it's a birthday, Christmas, or summer holiday, this water gun makes a fantastic present. Plus, our dedicated 24/7 customer service is always available to address any questions or concerns you may have.
Get ready for impressive shooting range and a large water capacity. The water blaster can hold up to 500cc of water, ensuring a thrilling and prolonged battle experience for both kids and adults. Its leak-proof tank design allows the gun to shoot water up to an impressive 30 feet, making it ideal for various outdoor activities like swimming, beach parties, and yard play.
Please note that the rechargeable battery is placed inside the product body but is not connected properly. To use it correctly, you need to manually connect the battery. This simple step ensures that you can enjoy all the features of this exceptional water gun.
Unleash the excitement and take your water battles to new heights with our Electric Water Gun with Electric Suction Design. Order now and make this summer one to remember!
Package Include: 1 x Water Gun (Blue)
Address:
919 North Market Street, Suite 950
Wilmington, Delaware 19801
United States.
Email us: support@giftfavourite.com
Office Hours: Mon-Fri, 8am-12:00pm – 1:30pm-6pm Eastern Time
| English (EN) | USD
Copyright © 2023, GiftFavourite.