Free Shipping On All Orders Over $60.
Heart Lock Bracelet Key Necklace
HOW STRONG IS YOUR RELATIONSHIP?
Tougher than steel?
Once the bracelet is put on it won't come off with out his necklace!
A true promise bracelet of real love!
The Love Lock Set for couples is a reminder of true love.
They are thought to be a memorable gift for lovers.
A unique and romantic way to express your everlasting love
Who holds the key to your heart?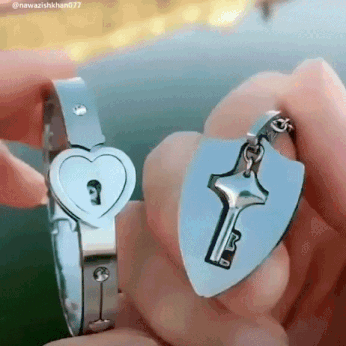 WHAT IT REPRESENTS:
EVERLASTING LOVE Remind them that you appreciate them forever and always with a lock and key that are only complete in each other's presence.
MESSAGE OF COMMITMENT Make a promise to your partner and display your affection. Strengthen your bond and profess your love by wearing this set together.
MEANINGFUL GIFT The absolute perfect gift for couples for an anniversary, holiday, birthday, or any occasion that deserves such a purposeful gift!
EXCEPTIONAL QUALITY The Love Lock Set is made of high-quality titanium stainless steel and will not tarnish or oxidize. It is durable enough for daily wear and requires little to no maintenance.
IN ADDITION You're going to love this unique conversation starter for yourself or as a gift for the special person in your life!
Sizing Guide:
The necklace chain length is 19.68"/50cm and the bracelet circumference is 6.69"/17cm. One size fits most women and men.
Package Include:
Address:
919 North Market Street, Suite 950
Wilmington, Delaware 19801
United States.
Email us: support@giftfavourite.com
Office Hours: Mon-Fri, 8am-12:00pm – 1:30pm-6pm Eastern Time
| English (EN) | USD
Copyright © 2023, GiftFavourite.