Free Shipping On All Orders Over $60.
Seaweed Tightening Eye Mask
Get this EVERYDAY LUXURY under-eye treatment for tired under-eye skin, dark circles, eye bags and fine lines!
This powerful eye masks will fight the signs of aging like none other. Restore your skin's elasticity and firmness. SAFE & GENTLE - The eye masks are made with natural and gentle ingredients!
Suitable for all skin types. BRIGHTENS & REJUVENATES - The masks will brighten and rejuvenate the sensitive skin under your eyes by moisturizing, hydrating and nourish.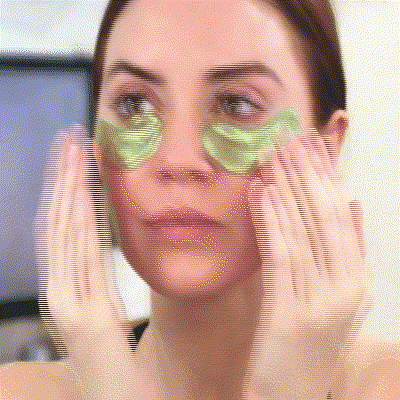 Features:
✅Pure Natural & Organic Ingredients
This collagen eye patches are combination of Collagen, Hyaluronic acid, Glycerin, Vitamin C, Vitamin E, Deionized Water and green plant extracts so on.Organic and natural, environmentally friendly &long-lasting moisture.

✅Anti -Dark Circles & Wrinkle-Care
Promotes blood circulation around eye areas, relieve eye fatigue ,reduce wrinkles & puffy eyes, improves the dark circles, brightens and evens skin tone in the under-eye area.

✅Easy to Use & Deep Absorb
Clean your eyes with warm water and dry first, apply the eye pads and get close to the skin around the eyes for 15-20 minutes.Then gently massage the skin around the eyes will help eye absorbing the collagen.It is advisable to used 2-3 times a week, both morning and evening.

✅Wide Audience & Complete Treatment
Our collagen eye pads can be used around the eyes, neck, forehead and around the mouth area.Ideal for makeup salons, cosmetic studios, makeup artists, professional use and personal use.
Specifications:
Ingredients:
COLLAGEN - We lose this important protein and our skin begins to dull and age. Alga collagen in this mask is used to help restore that lost elasticity and vibrancy back to the skin
HYALURONIC ACID - Super moisturizing antioxidant that restores and locks in moisture
ALGA EXTRACTS - speedup stimulates and regenerates eye skin cells, dramatically elevate your own skin's collagen growing ability
60PCS/ pack
Package Includes:
Seaweed Tightening Eye Mask (60pcs) x 1
Address:
919 North Market Street, Suite 950
Wilmington, Delaware 19801
United States.
Email us: support@giftfavourite.com
Office Hours: Mon-Fri, 8am-12:00pm – 1:30pm-6pm Eastern Time
| English (EN) | USD
Copyright © 2023, GiftFavourite.